Preservation Hall Sound Engineer, Earl Scioneaux III, will be recording a Daft Punk tribute album this Summer. Scioneaux's unique twist lies in the translation between his Daft Punk arrangements and the brass band musicians performing the music. Scioneaux is funding his project through donations generated by his
BRASSFT PUNK KICKSTARTER
account. Donations will end on 6/15 at 6:00PM.
Earl Scioneaux III Photo by Howard Lambert




"Daft Punk seemed an obvious choice - their music is great, it's accessible and widely known, and it's super danceable. What better way to reformat their tunes than the irresistible funky goodness of a New Orleans brass band?"
"I plan to arrange Daft Punk's 4 biggest hits for brass band. I've already written the arrangement for Harder, Better, Faster, Stronger. The other 3 tunes I'll be doing are: One More Time, Around the World, and Da Funk."-Earl Scioneaux III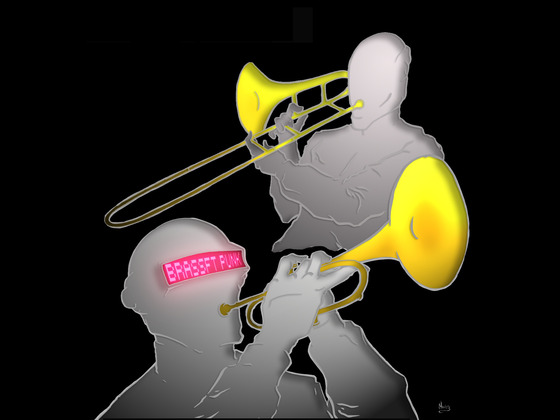 -Ars Technica, by Curt Hopkins
New developments:
•
Party/performance at Preservation Hall on Dec 15th, midnight
- will
explore both electronic and acoustic music and feature, of course, a
performance of Brassft Punk
• Chicago artist
Rob Loukotka
will be bringing these amazing Daft Punk
replica helmets to the event for photo ops:
•Tickets & pre-orders of the record are available as rewards on
kickstarter.
The kickstarter campaign ends Friday, June 15.
• Multitrack stems of the record are available as an add-on option.
(great for mash-up/remix/dj stuff)